Chaetophloeus minimus

Wood 1967
&nbsp Images: Displaying 1 to 8 of 9
| | |
| --- | --- |
| Chaetophloeus minimus | Chaetophloeus minimus (male) |
| Chaetophloeus minimus (male) | Chaetophloeus minimus |
| Chaetophloeus minimus (male) | Chaetophloeus minimus (male) |
| Chaetophloeus minimus (male) | Chaetophloeus minimus (male) |
| | Next > |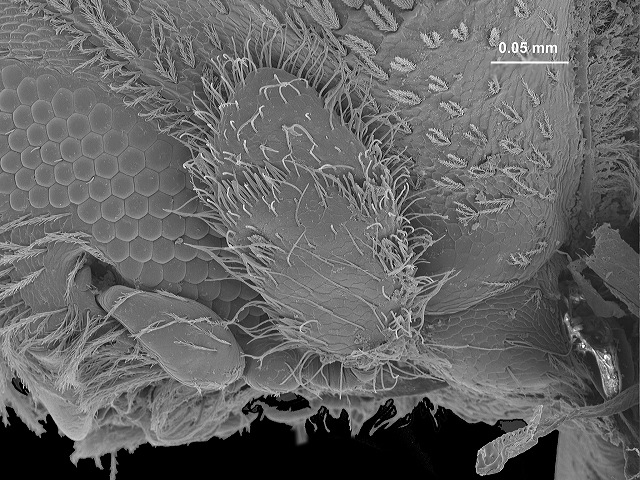 Chaetophloeus minimus (by TH Atkinson ).
&nbsp Summary of Information
SYNONYMY
Chaetophloeus minimus Wood 1967. Great Basin Nat. 27: 95
DISTRIBUTION.
Numbers in parentheses after each geographic unit are the number of distinct collection events in the database for that unit. For exotic species generally only countries are listed for localities outside the New World. For further information on published sources of distribution, check the REFERENCES section.
Distribution Comments. Most records of this species are from dry forests on the Pacific Coast of Mexico. Specimens from southern Texas and northeastern Mexico mostly agree with the description of this species but at present form a disjunct population. Further collecting is need to determine the range of this species.
North America (171)
Canada (14): British Columbia (14); México (15): Baja California (4), Colima (1), Jalisco (6), Nuevo León (1), Oaxaca (3); United States (142): no state / prov. data (5), Arizona (4), California (61), Colorado (2), Idaho (13), Montana (2), Nevada (5), Oregon (25), South Dakota (2), Texas (2), Utah (4), Washington (17);
HOSTS
Numbers in parentheses after each host family, genus, or collection method are the number of distinct collection events in the database for that host or method.
No host information (92);
Betulaceae (2): Alnus (2): sp. (2);
Clethraceae (1): Clethra (1): sp. (1);
Leguminosae (3): (3): no species data (3);
Papilionaceae (7): Apoplanesia (4): paniculata (4); Eysenhardtia (3): texana (3);
Pinaceae (16): Abies (2): concolor (1), magnifera (1); Picea (1): engelmanni (1); Pinus (10): contorta (1), flexilis (1), jeffreyi (2), lambertiana (1), ponderosa (3), radiata (1), sp. (1); Pseudotsuga (2): menziesii (2); Tsuga (1): heterophylla (1);
Salicaceae (1): Populus (1): trichocarpa (1);
trap (49) (32): alpha pinene + ethanol (32); light (2): no details (1), ultraviolet (1); Lindgren Funnel (14): no details (1), alpha pinene + ethanol (6), ethanol (5), exotic ips lure (2); rotary net (1): no details (1);
REFERENCES
The following are important recent monographs, catalogs, and supplements to catalogs that refer to this species. The specific page on which the reference is made is shown in pink at the end of the reference. In the case of Wood (1982) and Wood & Bright (1992) clicking on the reference page will link to a digital version of the work in question.
Wood, S.L. 1982. The bark and ambrosia beetles of North and Central America (Coleoptera: Scolytidae), a taxonomic monograph. Great Basin Nat. Mem. 6:1-1356. [358]. (data capture complete)
The following are references from which host and distribution data have been input into the database. If one of the above monographs or catalogs also appears in this list, it means that most relevant collection event data have been included.
&nbsp Distribution Map
Maps automatically open at the center of the plotted points and the scale is set to encompass all map points. Maps can be resized (scale bar at upper left) and the center moved (place cursor over map and drag) to see other parts of the distribution of the species. Clicking on a map marker will pull up collection event data and a literature citation if present. If any errors are found, please refer to the "series code" which is a unique identifier for a database record in any communications). Coordinates have not been entered for all collection records. Localities outside the New World are not plotted, even though they are listed in the distribution summary and in the table of records.
&nbsp Collection Records
No.
Collection data
Publication
North America
1->
Canada, British Columbia, Agassiz
[unknown () (Wood, S.L. 1982: 1162)]
2->
Canada, British Columbia, Bowser
[unknown () (Wood, S.L. 1982: 1163)]
3->
Canada, British Columbia, Creston
[unknown () (Wood, S.L. 1982: 1163)]
4->
Canada, British Columbia, Duncan
[unknown () (Wood, S.L. 1982: 1163)]
5->
Canada, British Columbia, Lake Cowichan
[unknown () (Wood, S.L. 1982: 1163)]
6->
Canada, British Columbia, Merritt
[unknown () (Wood, S.L. 1982: 1163)]
7->
Canada, British Columbia, Midday Valley, Merritt; 15/V/1925; Stanley, J.; Pinaceae: Pinus ponderosa
[UAIC (1) (University of Arizona Insect Collection 2016: 0)]
8->
Canada, British Columbia, Nelson
[unknown () (Wood, S.L. 1982: 1163)]
9->
Canada, British Columbia, Pender Harbor
[unknown () (Wood, S.L. 1982: 1163)]
10->
Canada, British Columbia, Terrace
[unknown () (Wood, S.L. 1982: 1163)]
11->
Canada, British Columbia, Tod Inlet
[unknown () (Wood, S.L. 1982: 1163)]
12->
Canada, British Columbia, Trenchan
[unknown () (Wood, S.L. 1982: 1163)]
13->
Canada, British Columbia, Trinity Valley
[unknown () (Wood, S.L. 1982: 1163)]
14->
Canada, British Columbia, Victoria
[unknown () (Wood, S.L. 1982: 1163)]
15->
México, Baja California, Laguna Hanson
[unknown () (Wood, S.L. 1982: 1163)]
16->
México, Baja California, San Pedro Mártir Mtns.
[unknown () (Wood, S.L. 1982: 1163)]
17->
México, Baja California, San Pedro Mártir Mtns.; 3/VII/1987; Campos B., R.; Pinaceae: Pinus jeffreyi
[CEAM (6) (TH Atkinson-2014, unpublished)]
18->
México, Baja California, Sierra de Juárez (San Juárez)
[unknown () (Wood, S.L. 1982: 1163)]
19->
México, Colima, Armeria, 3 km E; 28/VI/1965; Wood, S.L.
[USNM (1: holotype, male) (Wood, S.L. 1982: 357) (Wood, S.L. 1967: 95)] [USNM (1: allotype, female) (Wood, S.L. 1982: 357) (Wood, S.L. 1967: 95)] [USNM (15: paratype(s)) (Wood, S.L. 1982: 357) (Wood, S.L. 1967: 95)]
20->
México, Jalisco, Chamela; 3/III/1982; Equihua M., A.; Leguminosae
[CEAM (7) (Equihua M., A, Atkinson, T.H. 1986: 626) (Equihua M., A, Atkinson, T.H. 1986: 0)]
21->
México, Jalisco, Chamela; 12/X/1982; Atkinson, T.H.; Equihua M., A.; trap: light ultraviolet
[CEAM (4) (Equihua M., A, Atkinson, T.H. 1986: 626) (Equihua M., A, Atkinson, T.H. 1986: 0)]
22->
México, Jalisco, Chamela; 3/II/1983; Atkinson, T.H.; Bautista M., N.; Leguminosae
[CEAM (4) (Equihua M., A, Atkinson, T.H. 1986: 626) (Equihua M., A, Atkinson, T.H. 1986: 0)]
23->
México, Jalisco, Chamela; Atkinson, T.H.; Papilionaceae: Apoplanesia paniculata
[CNIN () (Equihua M., A, Atkinson, T.H. 1986: 626)]
24->
México, Jalisco, El Tuito; 28/V/1982; Atkinson, T.H.; Equihua M., A.; Clethraceae: Clethra sp.
[CEAM (29) (Atkinson, T.H.; Equihua M., A. 1985: 231) (TH Atkinson-2016, unpublished)] [FSCA (11) (Atkinson, T.H.; Equihua M., A. 1985: 231)] [TAMU (12) (Atkinson, T.H.; Equihua M., A. 1985: 231)] [CNC (10) (Atkinson, T.H.; Equihua M., A. 1985: 231)]
25->
México, Jalisco, Est. Biologia Chamela; 17/XII/1985; Noguera M., F.A.; Papilionaceae: Apoplanesia paniculata
[UTIC (5) (TH Atkinson-2015, unpublished)]
26->
México, Nuevo León, Montemorelos; 14/VIII/2009; Atkinson, T.H.; Papilionaceae: Eysenhardtia texana
[TAMU (4) (TH Atkinson-2009, unpublished)] [CEAM (4) (TH Atkinson-2009, unpublished)] [FSCA (8) (TH Atkinson-2009, unpublished)] [CAS (8) (TH Atkinson-2009, unpublished)]
27->
México, Oaxaca, Huatulco, coast hwy, km 281, W of Rio Seco; 27/VI/2009; Atkinson, T.H.; Papilionaceae: Apoplanesia paniculata
[THAC (4) (TH Atkinson-2009, unpublished)] [TAMU (6) (TH Atkinson-2009, unpublished)] [FSCA (8) (TH Atkinson-2009, unpublished)] [CAS (8) (TH Atkinson-2009, unpublished)] [CEAM (4) (TH Atkinson-2009, unpublished) (TH Atkinson-2016, unpublished)] [MSUC (8) (TH Atkinson-2009, unpublished)] [AVP (2) (Atkinson, T.H.; Equihua M., A. 1986: 627)]
28->
México, Oaxaca, Hueyapan; 20/VI/2009; Atkinson, T.H.; Papilionaceae: Apoplanesia paniculata
[TAMU (2) (TH Atkinson-2014, unpublished)]
29->
México, Oaxaca, Piedra Blanca; 26/XII/1986; Burgos S., A.; Leguminosae
[unknown () (Equihua M., A, Burgos S., A. 1993: 307)]
30->
United States, no state / prov. data; Pinaceae: Picea engelmanni
[unknown (0) (Wood, S.L. 1982: 1163)]
31->
United States, no state / prov. data; Pinaceae: Pinus radiata
[unknown (0) (Wood, S.L. 1982: 1163)]
32->
United States, no state / prov. data; Pinaceae: Pinus lambertiana
[unknown (0) (Wood, S.L.; Bright, D.E. 1992: 1037)]
33->
United States, no state / prov. data; Pinaceae: Abies magnifera
[unknown (0) (Wood, S.L.; Bright, D.E. 1992: 1037)]
34->
United States, no state / prov. data; Pinaceae: Tsuga heterophylla
[unknown (0) (Wood, S.L.; Bright, D.E. 1992: 1037)]
35->
United States, Arizona, Copper Canyon, Huachuca Mtns.
[UAIC (5) (University of Arizona Insect Collection 2016: 0)]
36->
United States, Arizona, McNary; 16/VI/1939; R.P. Allen
[FSCA (1) (TH Atkinson-1988, unpublished) (SL Wood-1961, unpublished)]
37->
United States, Arizona, White Mtns; 9/VII/1936; Parker, F.H.
[UAIC (1) (University of Arizona Insect Collection 2016: 0)]
38->
United States, Arizona, White River; 25/VI/1937; R.P. Allen
[FSCA (2) (TH Atkinson-1988, unpublished) (SL Wood-1961, unpublished)]
39->
United States, California, 9 mile Canyon, nr. Troy Meadows; 4/VIII/1961; O'Brien, C.W.; Pinaceae: Pinus sp.
[CWOB (1) (TH Atkinson-1988, unpublished)]
40->
United States, California, Anderson; 18/IV/2007; Seybold, S.; Owen, D.; trap alpha pinene + ethanol
[unknown (2) (EDRR 2011: 0)]
41->
United States, California, Anderson; 18/VI/2014; Owen, D.; trap: Lindgren Funnel ethanol
[unknown (1) (EDRR 2014: 0)]
42->
United States, California, Antelope Creek; 15/VIII/1914
[UAIC (1) (University of Arizona Insect Collection 2016: 0)]
43->
United States, California, Big Bear; 6/V/2011; Coleman, T.; trap alpha pinene + ethanol
[unknown (1) (EDRR 2011: 0)]
44->
United States, California, Blodgett Forest; 28/IV/1976; Doyen et al
[MCZ (1) (TH Atkinson-1988, unpublished)]
45->
United States, California, Branscomb; 27/VI/2001; Garvin, M.; trap: Lindgren Funnel
[CSCA (1) (TH Atkinson-2014, unpublished)]
46->
United States, California, California (state)
[MCZ (1: lectotype, female) (Wood, S.L. 1982: 1163)]
47->
United States, California, Carnelian Bay, Lake Tahoe; 24/VI/1964; Veina, D.F.
[FSCA (1) (Bright, D.E., Stark, R.W. 1973: 117) (DE Bright-1964, unpublished)]
48->
United States, California, Cherry Hill Campground, 5 mi NE Butte Meadows; 24/V/1974; Andrews, F.G.
[CSCA (1) (TH Atkinson-2014, unpublished)]
49->
United States, California, Crestline; 19/IV/2012; Coleman, T.W.; trap: Lindgren Funnel ethanol
[unknown (1) (EDRR 2014: 0)]
50->
United States, California, Eureka; 12/III/2001; Spadoni, R
[CSCA (4) (TH Atkinson-2014, unpublished)] [UTIC (2) (TH Atkinson-2014, unpublished)]
51->
United States, California, Fresno Co.
[unknown (1) (Bright, D.E., Stark, R.W. 1973: 117)]
52->
United States, California, Grass Valley; 19/III/1968; trap: rotary net
[CSCA (2) (TH Atkinson-2014, unpublished)]
53->
United States, California, Humboldt Co.
[unknown (1) (Bright, D.E., Stark, R.W. 1973: 117)]
54->
United States, California, Inverness; 15/III/1959; Burdick, D.
[FSCA (1) (DE Bright-1964, unpublished)]
55->
United States, California, Inverness, 1 mi SE; 15/III/1959; O'Brien, C.W.
[TAMU (2) (DE Bright-1963, unpublished) (TH Atkinson-2007, unpublished)] [FSCA (1) (DE Bright-1964, unpublished)]
56->
United States, California, Inyo Co.
[unknown (1) (Bright, D.E., Stark, R.W. 1973: 117)]
57->
United States, California, Johnsville; 25/VII/1967; Pini, H.; trap: light
[CSCA (1) (TH Atkinson-2014, unpublished)]
58->
United States, California, Jolon, 10 mi W; 2/IV/1959; O'Brien, C.W.
[TAMU (1) (DE Bright-1963, unpublished) (TH Atkinson-2007, unpublished)] [FSCA (6) (DE Bright-1963, unpublished)]
59->
United States, California, Kern Co.
[unknown (1) (Bright, D.E., Stark, R.W. 1973: 117)]
60->
United States, California, Kings Beach, Griff Creek; 25/V/1985; Andrews, F.G.; Pinaceae: Pinus jeffreyi
[CSCA (2) (TH Atkinson-2014, unpublished)]
61->
United States, California, Lassen Co.
[unknown (1) (Bright, D.E., Stark, R.W. 1973: 117)]
62->
United States, California, Los Angeles Co
[unknown (1) (Bright, D.E., Stark, R.W. 1973: 117)]
63->
United States, California, Madera Co.
[unknown (1) (Bright, D.E., Stark, R.W. 1973: 117)]
64->
United States, California, Mammoth Lakes; 6/VI/2012; Bulaon, B.; trap: Lindgren Funnel alpha pinene + ethanol
[unknown (1) (EDRR 2014: 0)]
65->
United States, California, Mariposa Co.
[unknown (1) (Bright, D.E., Stark, R.W. 1973: 117)]
66->
United States, California, Mendocino; 12/IV/1958; Helfer, C.J.
[unknown (1) (Bright, D.E., Stark, R.W. 1973: 117)] [FSCA (3) (DE Bright-1964, unpublished)]
67->
United States, California, Modoc Co.
[unknown (1) (Bright, D.E., Stark, R.W. 1973: 117)]
68->
United States, California, Mono Co.
[unknown (1) (Bright, D.E., Stark, R.W. 1973: 117)]
69->
United States, California, Old Station, 8 mi SW; 8/VIII/1970; Chandler, D.S.
[UAIC (4) (University of Arizona Insect Collection 2016: 0)]
70->
United States, California, Orange Co.
[unknown (1) (Bright, D.E., Stark, R.W. 1973: 117)]
71->
United States, California, Plaskett Station; 30/VI/1967; Gagne, W.
[FSCA (1) (SL Wood-1972, unpublished)]
72->
United States, California, Plumas Co.
[unknown (1) (Bright, D.E., Stark, R.W. 1973: 117)]
73->
United States, California, Redding; 24/IV/2008; Synder, C.; Owen, D.; trap alpha pinene + ethanol
[unknown (1) (EDRR 2011: 0)]
74->
United States, California, Redding; 14/VI/2013; Snyder, C.; trap: Lindgren Funnel alpha pinene + ethanol
[unknown (1) (EDRR 2014: 0)]
75->
United States, California, Riverside Co.
[unknown (1) (Bright, D.E., Stark, R.W. 1973: 117)]
76->
United States, California, Sagehen Ck., nr. Hobart Mills; 24/VI/1964; Gillogly, A.R.
[TAMU (2) (TH Atkinson-2003, unpublished)]
77->
United States, California, Sagehen Ck., nr. Hobart Mills; 17/VI/1964; Gillogly, A.R.
[TAMU (1) (TH Atkinson-2003, unpublished)]
78->
United States, California, Sagehen Ck., nr. Hobart Mills; 17/VI/1964; Seminoff, S.G.
[CSCA (1) (TH Atkinson-2014, unpublished)] [UTIC (2) (TH Atkinson-2014, unpublished)]
79->
United States, California, Sagehen Creek, nr. Hobart; 24/VI/1964; Gillogly, A.R.
[TAMU (2) (TH Atkinson-2003, unpublished)]
80->
United States, California, Sagehen Creek, nr. Hobart; 17/VI/1964; Gillogly, A.R.
[TAMU (1) (TH Atkinson-2003, unpublished)]
81->
United States, California, San Bernardino Co.
[unknown (1) (Bright, D.E., Stark, R.W. 1973: 117)]
82->
United States, California, San Diego Co.
[unknown (1) (Bright, D.E., Stark, R.W. 1973: 117)]
83->
United States, California, San Jose; 7/III/1971
[CSCA (1) (TH Atkinson-2014, unpublished)]
84->
United States, California, Shasta Co.
[unknown (1) (Bright, D.E., Stark, R.W. 1973: 117)]
85->
United States, California, Siskiyou Co.
[unknown (1) (Bright, D.E., Stark, R.W. 1973: 117)]
86->
United States, California, Sonoma Co.
[unknown (1) (Bright, D.E., Stark, R.W. 1973: 117)]
87->
United States, California, Stumpy Meadows, 1.2 mi W; 20/IV/1989; Andrews, F.G.; Eichlin, T.; Pinaceae: Abies concolor
[CSCA (2) (TH Atkinson-2014, unpublished)]
88->
United States, California, Sulfur Springs; 5/V/1974; Hetz, M.W.
[UAIC (1) (University of Arizona Insect Collection 2016: 0)]
89->
United States, California, Susanville; 13/V/2010; Cluck, D.; Garcia, A.; trap alpha pinene + ethanol
[unknown (3) (EDRR 2011: 0)]
90->
United States, California, Susanville; 11/V/2012; Cluck, D.; trap: Lindgren Funnel alpha pinene + ethanol
[unknown (1) (EDRR 2014: 0)]
91->
United States, California, Susanville; 23/V/2013; Cluck, D.; trap: Lindgren Funnel alpha pinene + ethanol
[unknown (1) (EDRR 2014: 0)]
92->
United States, California, Susanville; 17/VII/2014; Cluck, D.; trap: Lindgren Funnel ethanol
[unknown (1) (EDRR 2014: 0)]
93->
United States, California, Trinity Co.
[unknown (1) (Bright, D.E., Stark, R.W. 1973: 117)]
94->
United States, California, Tuolumne Co.
[unknown (1) (Bright, D.E., Stark, R.W. 1973: 117)]
95->
United States, California, Westwood; 26/IV/2007; Smith, S.; Cluck, D.; trap alpha pinene + ethanol
[unknown (11) (EDRR 2011: 0)]
96->
United States, California, Woodland; 14/VI/2013; Smith, T.; trap: Lindgren Funnel exotic ips lure
[unknown (1) (EDRR 2014: 0)]
97->
United States, California, Yosmite Valley; 28/V/2014; Bulaon, B.; trap: Lindgren Funnel ethanol
[unknown (1) (EDRR 2014: 0)]
98->
United States, California, Yuba Pass; 5/V/1987; Andrews, F.G.; Hardy, A.R.; Pinaceae: Pseudotsuga menziesii
[CSCA (1) (TH Atkinson-2014, unpublished)] [UTIC (2) (TH Atkinson-2014, unpublished)]
99->
United States, California, Yuba Pass; 12/V/1976; Corwin, K.S.; Andrews, F.G.; Pinaceae: Pinus ponderosa
[CSCA (1) (TH Atkinson-2014, unpublished)]
100->
United States, Colorado, Berthode; 19/VI/2012; Rowley, T.; trap: Lindgren Funnel exotic ips lure
[unknown (1) (EDRR 2014: 0)]
101->
United States, Colorado, Estes Park; 13/VI/2011; Rowley, T.; trap alpha pinene + ethanol
[unknown (1) (EDRR 2011: 0)]
102->
United States, Idaho, Cedar Mtn.
[unknown () (Wood, S.L. 1982: 1163)]
103->
United States, Idaho, Centerville
[unknown () (Wood, S.L. 1982: 1163)]
104->
United States, Idaho, Coeur d'Alene
[unknown () (Wood, S.L. 1982: 1163)]
105->
United States, Idaho, East Port; 1/V/2008; Eckberg, T.; trap alpha pinene + ethanol
[unknown (1) (EDRR 2011: 0)]
106->
United States, Idaho, Moscow
[unknown () (Wood, S.L. 1982: 1163)]
107->
United States, Idaho, Moscow; 15/IV/2008; Looney, D.; trap alpha pinene + ethanol
[unknown (1) (EDRR 2011: 0)]
108->
United States, Idaho, Pierce
[unknown () (Wood, S.L. 1982: 1163)]
109->
United States, Idaho, Post Falls; 16/IV/2008; Eckberg, T.; trap alpha pinene + ethanol
[unknown (2) (EDRR 2011: 0)]
110->
United States, Idaho, Sand Point; 1/V/2008; Eckberg, T.; trap alpha pinene + ethanol
[unknown (1) (EDRR 2011: 0)]
111->
United States, Idaho, Smiths Ferry
[unknown () (Wood, S.L. 1982: 1163)]
112->
United States, Idaho, Troy
[unknown () (Wood, S.L. 1982: 1163)]
113->
United States, Idaho, Westmond
[unknown () (Wood, S.L. 1982: 1163)]
114->
United States, Idaho, Whitebird Pass
[unknown () (Wood, S.L. 1982: 1163)]
115->
United States, Montana, Hamilton; 16/IV/2009; Toone, C.; trap alpha pinene + ethanol
[unknown (1) (EDRR 2011: 0)]
116->
United States, Montana, Sula
[unknown () (Wood, S.L. 1982: 1163)]
117->
United States, Nevada, Carson City
[unknown () (Wood, S.L. 1982: 1163)]
118->
United States, Nevada, Carson City; 28/IV/2009; Durham, G.; trap alpha pinene + ethanol
[unknown (1) (EDRR 2011: 0)]
119->
United States, Nevada, Kyle Canyon
[unknown () (Wood, S.L. 1982: 1163)]
120->
United States, Nevada, Reno; 22/IV/2009; Little, R.; trap alpha pinene + ethanol
[unknown (28) (EDRR 2011: 0)]
121->
United States, Nevada, Round Hill; 28/IV/2009; Durham, G.; trap alpha pinene + ethanol
[unknown (4) (EDRR 2011: 0)]
122->
United States, Oregon; Betulaceae: Alnus sp.
[unknown (0) (Wood, S.L. 1982: 1163)]
123->
United States, Oregon, Bandon; 9/II/2011; TMJ; trap alpha pinene + ethanol
[unknown (1) (EDRR 2011: 0)]
124->
United States, Oregon, Bend; 19/IV/2007; Hoffman, J.; trap alpha pinene + ethanol
[unknown (3) (EDRR 2011: 0)]
125->
United States, Oregon, Brookings; 9/II/2011; TMJ; trap alpha pinene + ethanol
[unknown (2) (EDRR 2011: 0)]
126->
United States, Oregon, Elliott State Forest; 22/V/1961; McCleve, S.
[UAIC (3) (University of Arizona Insect Collection 2016: 0)]
127->
United States, Oregon, Gilchrist Trap; 28/VI/1997
[MSUC (1) (Albert J. Cook Arthropod Research Collection 2010: 0)]
128->
United States, Oregon, Madras; 14/IV/2007; Hoffman, J.; trap alpha pinene + ethanol
[unknown (2) (EDRR 2011: 0)]
129->
United States, Oregon, Oakridge; 22/IV/1966; McCleve, S.
[UAIC (1) (University of Arizona Insect Collection 2016: 0)]
130->
United States, Oregon, Oakridge; 3/V/1966; McCleve, S.
[UAIC (4) (University of Arizona Insect Collection 2016: 0)]
131->
United States, Oregon, Oakridge; 4/VI/1966; McCleve, S.
[UAIC (1) (University of Arizona Insect Collection 2016: 0)]
132->
United States, Oregon, Oakridge; 8/VI/1966; McCleve, S.
[UAIC (1) (University of Arizona Insect Collection 2016: 0)]
133->
United States, Oregon, Oakridge; 16/VIII/1966; McCleve, S.
[UAIC (2) (University of Arizona Insect Collection 2016: 0)]
134->
United States, Oregon, Oceanside; 8/VIII/1981; Turnbow, R.H.
[RHTC (1) (TH Atkinson-1988, unpublished)]
135->
United States, Oregon, Ochoco Natl. For.; VI/1914
[LSAM (1) (TH Atkinson-1988, unpublished)]
136->
United States, Oregon, Pine Cr., Blue Mtns.; 18/VI/1980; Haswell, R.H.
[TAMU (1) (TH Atkinson-2012, unpublished)]
137->
United States, Oregon, Portal River; 20/IV/1949; Chamberlin, W.F.
[TAMU (1) (TH Atkinson-2008, unpublished)]
138->
United States, Oregon, Portland; 7/IV/2011; Larsen; K.A.; trap alpha pinene + ethanol
[unknown (1) (EDRR 2011: 0)]
139->
United States, Oregon, Portland- Jantzen Beach; 7/VIII/1997
[MSUC (1) (Albert J. Cook Arthropod Research Collection 2010: 0)]
140->
United States, Oregon, Prineville, 29 mi. E ; 13/V/1969; McCleve, S.
[UAIC (1) (University of Arizona Insect Collection 2016: 0)]
141->
United States, Oregon, Redmond; 13/IV/2007; Hoffman, J.; trap alpha pinene + ethanol
[unknown (3) (EDRR 2011: 0)]
142->
United States, Oregon, Rogue River; 8/IV/2011; Stoner, D.C.; trap alpha pinene + ethanol
[unknown (1) (EDRR 2011: 0)]
143->
United States, Oregon, Salem; 7/IV/2011; Adams, T.; trap alpha pinene + ethanol
[unknown (1) (EDRR 2011: 0)]
144->
United States, Oregon, Sulfur Springs; 12/VII/1970; Turnbow, R.H.
[FSCA (2) (SL Wood-1974, unpublished)]
145->
United States, Oregon, The Dalles; 14/V/2008
[MSUC (1) (Albert J. Cook Arthropod Research Collection 2010: 0)]
146->
United States, Oregon, Woodburn; 7/IV/2011; Adams, T.; trap alpha pinene + ethanol
[unknown (1) (EDRR 2011: 0)]
147->
United States, South Dakota, Rapid City; 8/V/2009; Halverson; trap alpha pinene + ethanol
[unknown (1) (EDRR 2011: 0)]
148->
United States, South Dakota, Whitewood; 1/V/2009; Halverson; trap alpha pinene + ethanol
[unknown (1) (EDRR 2011: 0)]
149->
United States, Texas, Goliad; 28/VI/2006; Atkinson, T.H.; Papilionaceae: Eysenhardtia texana
[TAMU (14) (Atkinson, T.H., Riley, E.G. 2013: 4)]
150->
United States, Texas, Goliad; 8/VII/2006; Atkinson, T.H.; Papilionaceae: Eysenhardtia texana
[UTIC (16) (Atkinson, T.H., Riley, E.G. 2013: 4)] [RJRC (6) (Atkinson, T.H., Riley, E.G. 2013: 4)] [RHTC (6) (Atkinson, T.H., Riley, E.G. 2013: 4)] [ASUT (10) (Atkinson, T.H., Riley, E.G. 2013: 4)] [AVP (4)
151->
United States, Utah, Logan Canyon; 1946; Wood, S.L.; Pinaceae: Pinus flexilis
[USNM (1) (Wood, S.L. 1982: 1163) (Wood, S.L. 1951: 128)]
152->
United States, Utah, Logan Canyon; 1946; Wood, S.L.; Pinaceae: Pinus contorta
[USNM (1) (Wood, S.L. 1951: 128)]
153->
United States, Utah, Logan Canyon; 1946; Wood, S.L.; Pinaceae: Pseudotsuga menziesii
[USNM (1) (Wood, S.L. 1951: 128)]
154->
United States, Utah, Mountian Dell; 30/V/2011; Crowther, N.; trap alpha pinene + ethanol
[unknown (1) (EDRR 2011: 0)]
155->
United States, Washington, Cedar Falls; 11/VI/1972; Deyrup, M.A.
[TAMU (4) (MA Deyrup-, unpublished) (TH Atkinson-2007, unpublished)]
156->
United States, Washington, Centalia; 9/V/2012; trap: Lindgren Funnel alpha pinene + ethanol
[unknown (1) (EDRR 2014: 0)]
157->
United States, Washington, Everett; 21/V/2012; trap: Lindgren Funnel alpha pinene + ethanol
[unknown (1) (EDRR 2014: 0)]
158->
United States, Washington, Federal Way; 23/IV/2012; trap: Lindgren Funnel ethanol
[unknown (1) (EDRR 2014: 0)]
159->
United States, Washington, Hoquiam; Betulaceae: Alnus sp.
[USNM (1: holotype, female) (Wood, S.L. 1982: 1163)]
160->
United States, Washington, Kooskooskie; 17/V/1949; Nelson, G.H.
[FSCA (3) (WH Anderson-1950, unpublished)]
161->
United States, Washington, Kooskooskie; 30/IV/1949; Nelson, G.H.; Pinaceae: Pinus ponderosa
[FSCA (1) (TH Atkinson-2014, unpublished)]
162->
United States, Washington, Longmire; Salicaceae: Populus trichocarpa
[unknown (0) (Wood, S.L. 1982: 1163)]
163->
United States, Washington, Mt. Ranier NP, Deer Creek; 20/VII/1966; Gagne, W.
[FSCA (1) (SL Wood-1972, unpublished)]
164->
United States, Washington, Northbend; 17/V/2010; trap alpha pinene + ethanol
[unknown (1) (EDRR 2011: 0)]
165->
United States, Washington, Roslyn; 13/IV/2007; Fisher; trap alpha pinene + ethanol
[unknown (1) (EDRR 2011: 0)]
166->
United States, Washington, Seattle; 24/V/2010; trap alpha pinene + ethanol
[unknown (1) (EDRR 2011: 0)]
167->
United States, Washington, Shelton; 26/V/2010; trap alpha pinene + ethanol
[unknown (2) (EDRR 2011: 0)]
168->
United States, Washington, Silverlake; 26/V/2010; trap alpha pinene + ethanol
[unknown (1) (EDRR 2011: 0)]
169->
United States, Washington, Silverlake; 15/V/2006; Thomas, M.C.
[FSCA (4) (TH Atkinson-2013, unpublished)]
170->
United States, Washington, Terrace Heights; 13/IV/2007; Fisher; trap alpha pinene + ethanol
[unknown (1) (EDRR 2011: 0)]
171->
United States, Washington, Yakima, 33 mi W; 8/V/1949; Nelson, G.H.
[FSCA (2) (TH Atkinson-2014, unpublished)]
Return to top of page