Carphoborus intermedius

Wood 1954
&nbsp Images: Displaying 1 to 5 of 5
| | |
| --- | --- |
| Carphoborus intermedius (male) | Carphoborus intermedius (male) |
| Carphoborus intermedius (male) | Carphoborus intermedius (male) |
| Carphoborus intermedius (male) | |
| | |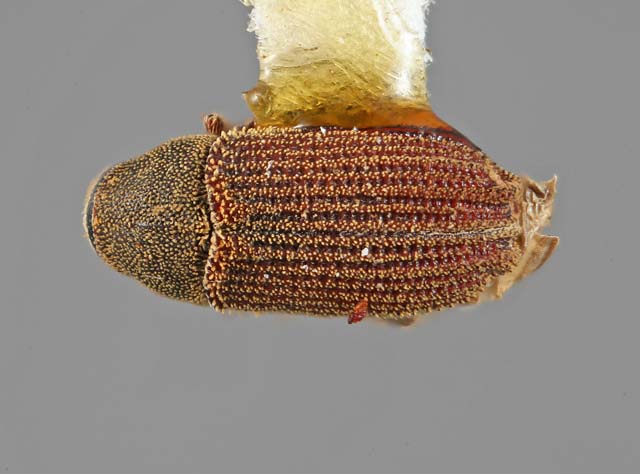 Carphoborus intermedius (male) (by SM Smith ). holotype Carphoborus intermedius Wood. This image may be protected by copyright or have other legal restrictions on use. Permission to publish should be obtained from the National Museum of Natural History, Smithsonian Institution, Washington, D.C.
&nbsp Summary of Information
SYNONYMY
Carphoborus intermedius Wood 1954. Can. Ent. 86: 523
DISTRIBUTION.
Numbers in parentheses after each geographic unit are the number of distinct collection events in the database for that unit. For exotic species generally only countries are listed for localities outside the New World. For further information on published sources of distribution, check the REFERENCES section.
North America (172)
Canada (1): Ontario (1); United States (171): no state / prov. data (2), Alabama (1), Alaska (1), Arkansas (2), California (2), Colorado (2), Delaware (3), District of Columbia (1), Florida (10), Georgia (6), Illinois (1), Indiana (4), Iowa (3), Kansas (4), Kentucky (1), Louisiana (4), Maryland (5), Massachussetts (2), Michigan (4), Minnesota (1), Mississippi (10), Missouri (12), Montana (1), Nebraska (5), New Hampshire (2), New Jersey (4), New York (6), North Carolina (4), Ohio (2), Oklahoma (7), Oregon (1), Pennsylvania (3), Rhode Island (1), South Carolina (7), South Dakota (2), Tennessee (1), Texas (28), Virginia (12), Washington (1), West Virginia (3);
HOSTS
Numbers in parentheses after each host family, genus, or collection method are the number of distinct collection events in the database for that host or method.
No host information (112);
Cupressaceae (31): (1): no species data (1); Chamaecyparis (1): thyoides (1); Cunninghamia (1): lanceolata (1); Cupressocyparis (2): leylandii (2); Juniperus (25): no species data (3), ashei (1), silicicola (2), sp. (5), virginiana (14); Thuja (1): occidentalis (1);
Pinaceae (4): Picea (3): breweriana (2), engelmannii (1); Pinus (1): contorta (1);
trap (25) (13): alpha pinene + ethanol (13); alpha-scents 4 vane (1): ethanol (1); beating (1): Juniperus virgijniana fol (1); Lindgren Funnel (9): alpha pinene + ethanol (4), Chalcoprax (1), ethanol (2), exotic ips lure (2); pheromone (1): no details (1);
REFERENCES
The following are important recent monographs, catalogs, and supplements to catalogs that refer to this species. The specific page on which the reference is made is shown in pink at the end of the reference. In the case of Wood (1982) and Wood & Bright (1992) clicking on the reference page will link to a digital version of the work in question.
Wood, S.L. 1982. The bark and ambrosia beetles of North and Central America (Coleoptera: Scolytidae), a taxonomic monograph. Great Basin Nat. Mem. 6:1-1356. [384]. (data capture complete)
The following are references from which host and distribution data have been input into the database. If one of the above monographs or catalogs also appears in this list, it means that most relevant collection event data have been included.
&nbsp Distribution Map
Maps automatically open at the center of the plotted points and the scale is set to encompass all map points. Maps can be resized (scale bar at upper left) and the center moved (place cursor over map and drag) to see other parts of the distribution of the species. Clicking on a map marker will pull up collection event data and a literature citation if present. If any errors are found, please refer to the "series code" which is a unique identifier for a database record in any communications). Coordinates have not been entered for all collection records. Localities outside the New World are not plotted, even though they are listed in the distribution summary and in the table of records.
&nbsp Collection Records
No.
Collection data
Publication
North America
1->
Canada, Ontario, Ridgeway
[MCZ (1) (TH Atkinson-1988, unpublished)]
2->
United States, no state / prov. data; Cupressaceae: Chamaecyparis thyoides
[unknown (0) (Wood, S.L.; Bright, D.E. 1992: 246)]
3->
United States, no state / prov. data, America Boreal
[USNM (1: lectotype, female) (Wood, S.L. 1982: 294)]
4->
United States, Alabama, Mobile
[MCZ (1) (TH Atkinson-1988, unpublished)]
5->
United States, Alaska, Bonanza Creek (20 miles W Fairbank); 12/VII/1877; Ward, T.; trap: pheromone
[unknown (1) (Wood, S.L. 1982: 384)]
6->
United States, Arkansas, Lyme (Lynn?)
[Unknown () (Wood, S.L. 1982: 294)]
7->
United States, Arkansas, Rowayton
[Unknown () (Wood, S.L. 1982: 294)]
8->
United States, California, Etna; Pinaceae: Picea breweriana
[HSCC (1) (Bright, D.E., Stark, R.W. 1973: 59)]
9->
United States, California, Happy Camp, 13 mi N; 13/VIII/1963; Wray, C.J.; Pinaceae: Picea breweriana
[EMEC (1) (Bright, D.E. 1964: 170) (Bright, D.E., Stark, R.W. 1973: 59)]
10->
United States, Colorado, Grand Lake; 5/X/1938; Pinaceae: Pinus contorta
[unknown (1) (Wood, S.L. 1982: 384)]
11->
United States, Colorado, New Castle; Massey, C.L.; Pinaceae: Picea engelmannii
[USNM (1: holotype, male) (Wood, S.L. 1982: 384)]
12->
United States, Delaware, Elsmere; 24/IV/2009; Gladders, G.; trap alpha pinene + ethanol
[unknown (1) (EDRR 2011: 0)]
13->
United States, Delaware, Prime Hook Wildlife Refuge; 27/IV/1998; Valenti, M.A.
[UDCC (3) (Rabaglia, R.J.; Valenti, M.A. 2003: 314)]
14->
United States, Delaware, Smyrna; 27/IV/2009; Gladders, G.; trap alpha pinene + ethanol
[unknown (1) (EDRR 2011: 0)]
15->
United States, District of Columbia, Washington
[Unknown () (Wood, S.L. 1982: 294)]
16->
United States, Florida, Alachua Co.; 5/V/1950
[FSCA (1) (TH Atkinson-1987, unpublished)]
17->
United States, Florida, Blount Island; 1/V/1997; Gilmore, J.; trap: Lindgren Funnel Chalcoprax
[FSCA (1) (TH Atkinson-2003, unpublished)]
18->
United States, Florida, Gainesville; 20/IV/1976; Atkinson, T.H.; Cupressaceae: Juniperus silicicola
[FSCA (5) (Deyrup, M.A.; Atkinson, T.H. 1987: 68)] [TAMU (3) (Deyrup, M.A.; Atkinson, T.H. 1987: 68)]
19->
United States, Florida, Gainesville; 11/VI/2010; Whilby, L.; Silagyi, A.; trap alpha pinene + ethanol
[unknown (1) (EDRR 2011: 0)]
20->
United States, Florida, Lake City; X/1986; Merkel, E.P.; Cupressaceae: Juniperus silicicola
[CEAM (10) (TH Atkinson-1989, unpublished) (TH Atkinson-2015, unpublished)] [FSCA (20) (TH Atkinson-1989, unpublished)] [TAMU (20) (TH Atkinson-1989, unpublished)]
21->
United States, Florida, Longwood; 30/I/2004; Melco, A.; Cupressaceae: Cupressocyparis leylandii
[FSCA (3) (TH Atkinson-2003, unpublished)]
22->
United States, Florida, Macclenny; 27/VIII/1999; Webb, C.; Cupressaceae: Cunninghamia lanceolata
[FSCA (1) (TH Atkinson-2003, unpublished)]
23->
United States, Florida, Marianna; 25/III/1978; Chellman, C.W.
[FSCA (3) (TH Atkinson-1987, unpublished)]
24->
United States, Florida, San Antonio; 22/III/1993; Weber, K.; Cupressaceae: Cupressocyparis leylandii
[FSCA (3) (TH Atkinson-1993, unpublished)]
25->
United States, Florida, Sanford
[MCZ (1) (TH Atkinson-1988, unpublished)]
26->
United States, Georgia, Athens; 10/VII/1974; Baer, R.
[Unknown (1) (-, unpublished)]
27->
United States, Georgia, Hardeman Forest; 1974; Turnbow, R.H.; Cupressaceae: Juniperus virginiana
[UGCA (40) (TH Atkinson-1988, unpublished)]
28->
United States, Georgia, Sea Island; 6/VII/1939; Lund, H.O.; Cupressaceae
[UGCA (2) (TH Atkinson-, unpublished)]
29->
United States, Georgia, Stone Mtn.; IV/1972; Cupressaceae: Juniperus sp.
[TAMU (10) (TH Atkinson-1989, unpublished)]
30->
United States, Georgia, Thomasville
[Unknown () (Wood, S.L. 1982: 294)]
31->
United States, Georgia, Whitehall Forest; 23/VIII/1973; Berisford, C.W.; Cupressaceae: Juniperus virginiana
[UGCA (38) (TH Atkinson-1988, unpublished)]
32->
United States, Illinois, Lyons
[Unknown () (Wood, S.L. 1982: 294)]
33->
United States, Indiana; Cupressaceae: Juniperus virginiana
[unknown (1) (Deyrup, M.A. 1981: 4)]
34->
United States, Indiana, Grantsburg; 2/VII/1965; Eckert, D.
[FSCA (1) (TH Atkinson-1987, unpublished)]
35->
United States, Indiana, Pulaski Co.
[Unknown () (Deyrup, M.A. 1981: 4)]
36->
United States, Indiana, Tippecanoe Co.
[Unknown () (Deyrup, M.A. 1981: 4)]
37->
United States, Iowa, Ames; Cupressaceae: Juniperus virginiana
[DFEC (1) (TH Atkinson-1988, unpublished)]
38->
United States, Iowa, Mt. Carmel
[Unknown () (Wood, S.L. 1982: 294)]
39->
United States, Iowa, Shenandoah
[Unknown () (Wood, S.L. 1982: 294)]
40->
United States, Kansas, Fowler
[Unknown () (Wood, S.L. 1982: 294)]
41->
United States, Kansas, Lawrence
[Unknown () (Wood, S.L. 1982: 294)]
42->
United States, Kansas, Osborne Co.
[Unknown () (Wood, S.L. 1982: 294)]
43->
United States, Kansas, Salina
[Unknown () (Wood, S.L. 1982: 294)]
44->
United States, Kentucky, Lexington
[Unknown () (Wood, S.L. 1982: 294)]
45->
United States, Louisiana, Alexandria; 1/III/2010; Haley, T.; trap alpha pinene + ethanol
[unknown (1) (EDRR 2011: 0)]
46->
United States, Louisiana, E. Feliciana Par.; IX/1973
[LSAM (1) (TH Atkinson-1988, unpublished)]
47->
United States, Louisiana, Shreveport; 1/III/2010; Haley, T.; trap alpha pinene + ethanol
[unknown (1) (EDRR 2011: 0)]
48->
United States, Louisiana, Winnfield
[MCZ (1) (TH Atkinson-1988, unpublished)]
49->
United States, Maryland, Bladensburg
[Unknown () (Wood, S.L. 1982: 294)]
50->
United States, Maryland, Chevy Chase; 31/V/1946; W.D. Frank
[USNM (1) (TH Atkinson-1988, unpublished)]
51->
United States, Maryland, Glen Echo
[Unknown () (Wood, S.L. 1982: 294)]
52->
United States, Maryland, Piney Point
[unknown () (Wood, S.L. 1982: 294)]
53->
United States, Maryland, Plummers Island
[unknown () (Wood, S.L. 1982: 294)]
54->
United States, Massachussetts, Lawrence
[Unknown () (Wood, S.L. 1982: 294)]
55->
United States, Massachussetts, Walpole
[Unknown () (Wood, S.L. 1982: 294)]
56->
United States, Michigan, E.S. George Res.; 12/VII/1978; Kirkendall, L.R.; Cupressaceae: Juniperus virginiana
[unknown (15) (Cognato, A.I.; Barc, N.; Philip, M.; Mech, R.; Smith, A.D.; Galbraith, E.; Storer, A.J.; Kirkendall, L.R. 2009: 1)]
57->
United States, Michigan, Marquette
[MSUC (1) (Albert J. Cook Arthropod Research Collection 2010: 0)]
58->
United States, Michigan, Michigan; 12/IV/1976; Cupressaceae: Juniperus sp.
[CSCA (12) (TH Atkinson-2016, unpublished)]
59->
United States, Michigan, T 33 N, R3W sec 12. Sturgeon Riv. by old US 27; 12/VIII/1978; Kirkendall, L.R.; Cupressaceae: Thuja occidentalis
[unknown (1) (Cognato, A.I.; Barc, N.; Philip, M.; Mech, R.; Smith, A.D.; Galbraith, E.; Storer, A.J.; Kirkendall, L.R. 2009: 1)]
60->
United States, Minnesota, Monticello
[Unknown () (Wood, S.L. 1982: 294)]
61->
United States, Mississippi, A & M; Blackman, M.W.
[DFEC (1) (TH Atkinson-1988, unpublished)]
62->
United States, Mississippi, Agricultural College
[Unknown () (Blackman, M.W. 1922: 451)]
63->
United States, Mississippi, Columbus
[Unknown () (Wood, S.L. 1982: 294)]
64->
United States, Mississippi, Gulfport
[Unknown () (Wood, S.L. 1982: 294)]
65->
United States, Mississippi, Natchez; Blackman, M.W.
[DFEC (1) (TH Atkinson-1988, unpublished)]
66->
United States, Mississippi, Natchez
[USNM (1: syntype(s)) (Wood, S.L. 1982: 294)]
67->
United States, Mississippi, Ripley; Blackman, M.W.
[DFEC (1) (TH Atkinson-1988, unpublished)]
68->
United States, Mississippi, Ripley
[Unknown () (Blackman, M.W. 1922: 451)]
69->
United States, Mississippi, Wallerville; Blackman, M.W.
[DFEC (1) (TH Atkinson-1988, unpublished)]
70->
United States, Mississippi, Wallerville
[Unknown () (Blackman, M.W. 1922: 451)]
71->
United States, Missouri, Ashland Baskett Wildlife Center; 5/IV/1976; Riley, E.G.
[USNM (4) (Atkinson,T.H., Rabaglia,R.J.; Peck,S.J.; Foltz,J.L. 1991: 156)]
72->
United States, Missouri, Columbia; 25/IV/2014; Doerhoff, R.; trap: Lindgren Funnel alpha pinene + ethanol
[unknown (1) (EDRR 2014: 0)]
73->
United States, Missouri, Columbia; 25/IV/2014; Doerhoff, R.; trap: Lindgren Funnel alpha pinene + ethanol
[unknown (1) (EDRR 2014: 0)]
74->
United States, Missouri, Jefferson City; 9/V/2014; Doerhoff, R.; trap: Lindgren Funnel alpha pinene + ethanol
[unknown (1) (EDRR 2014: 0)]
75->
United States, Missouri, near Concordia; 10/IV/2008; Hook, B.; trap alpha pinene + ethanol
[unknown (1) (EDRR 2011: 0)]
76->
United States, Missouri, Platte City; 7/V/2014; Doerhoff, R.; trap: Lindgren Funnel exotic ips lure
[unknown (1) (EDRR 2014: 0)]
77->
United States, Missouri, St. Louis; 17/IV/2008; Walsh, M.; trap alpha pinene + ethanol
[unknown (4) (EDRR 2011: 0)]
78->
United States, Missouri, St. Louis Laumeier Park; 5/VI/2008
[MSUC (1) (Albert J. Cook Arthropod Research Collection 2010: 0)]
79->
United States, Missouri, St. Louis Laumeier Park; 17/IV/2008
[MSUC (1) (Albert J. Cook Arthropod Research Collection 2010: 0)]
80->
United States, Missouri, Strafford; 15/IV/2014; Doerhoff, R.; trap: Lindgren Funnel alpha pinene + ethanol
[unknown (1) (EDRR 2014: 0)]
81->
United States, Missouri, Warrenton; 11/IV/2008; Hook, B.; trap alpha pinene + ethanol
[unknown (1) (EDRR 2011: 0)]
82->
United States, Missouri, Wildwood; 19/V/2014; Doerhoff, R.; trap: Lindgren Funnel ethanol
[unknown (1) (EDRR 2014: 0)]
83->
United States, Montana, Montana (state)
[unknown (1) (Wood, S.L.; Bright, D.E. 1992: 305)]
84->
United States, Nebraska, Grand Island; 10/IV/2008; Harrell, M.; trap alpha pinene + ethanol
[unknown (1) (EDRR 2011: 0)]
85->
United States, Nebraska, Lincoln; 14/IV/2008; Harrell, M.; trap alpha pinene + ethanol
[unknown (1) (EDRR 2011: 0)]
86->
United States, Nebraska, Plattsmouth; 15/IV/2008; Harrell, M.; trap alpha pinene + ethanol
[unknown (3) (EDRR 2011: 0)]
87->
United States, Nebraska, St. Paul
[Unknown () (Wood, S.L. 1982: 294)]
88->
United States, Nebraska, Valentine; 8/IV/2008; Harrell, M.; trap alpha pinene + ethanol
[unknown (4) (EDRR 2011: 0)]
89->
United States, New Hampshire, Rye
[MCZ (1) (TH Atkinson-1988, unpublished)]
90->
United States, New Hampshire, Webster
[Unknown () (Wood, S.L. 1982: 294)]
91->
United States, New Jersey, Anglesea
[Unknown () (Wood, S.L. 1982: 294)]
92->
United States, New Jersey, Bamber (Cedar Crest)
[Unknown () (Wood, S.L. 1982: 294)]
93->
United States, New Jersey, New Milford
[Unknown () (Wood, S.L. 1982: 294)]
94->
United States, New Jersey, Newark
[MCZ (4) (TH Atkinson-1988, unpublished)]
95->
United States, New York, Huntington
[Unknown () (Wood, S.L. 1982: 294)]
96->
United States, New York, Ithaca
[Unknown () (Wood, S.L. 1982: 294)]
97->
United States, New York, New York
[Unknown () (Wood, S.L. 1982: 294)]
98->
United States, New York, Peekskill
[Unknown () (Wood, S.L. 1982: 294)]
99->
United States, New York, Syracuse
[Unknown () (Wood, S.L. 1982: 294)]
100->
United States, New York, West Point
[Unknown () (Wood, S.L. 1982: 294)]
101->
United States, North Carolina, Durham
[Unknown () (Wood, S.L. 1982: 294)]
102->
United States, North Carolina, Elizabeth (Elizabeth City?)
[Unknown () (Wood, S.L. 1982: 294)]
103->
United States, North Carolina, Rowan Co.
[USFS-SE (8) (TH Atkinson-1988, unpublished)]
104->
United States, North Carolina, Tryon
[Unknown () (Wood, S.L. 1982: 294)]
105->
United States, Ohio, Cleveland
[Unknown () (Wood, S.L. 1982: 294)]
106->
United States, Ohio, Gypsum
[Unknown () (Wood, S.L. 1982: 294)]
107->
United States, Oklahoma, Red Oak; III/1980; Stephan, K.
[FSCA (2) (Atkinson,T.H., Rabaglia,R.J.; Peck,S.J.; Foltz,J.L. 1991: 156)]
108->
United States, Oklahoma, Red Oak; 28/II/1977; Stephan, K.
[TAMU (1) (SL Wood-1985, unpublished) (TH Atkinson-2007, unpublished)]
109->
United States, Oklahoma, Red Oak; 4/IV/1977; Stephan, K.
[TAMU (1) (SL Wood-1985, unpublished) (TH Atkinson-2007, unpublished)]
110->
United States, Oklahoma, Red Oak; 30/IV/1977; Stephan, K.
[TAMU (3) (SL Wood-1985, unpublished) (TH Atkinson-2007, unpublished)]
111->
United States, Oklahoma, Red Oak; 9/IV/1977; Stephan, K.
[TAMU (2) (SL Wood-1985, unpublished) (TH Atkinson-2007, unpublished)]
112->
United States, Oklahoma, Red Oak; 25/III/1977; Stephan, K.
[TAMU (3) (SL Wood-1985, unpublished) (TH Atkinson-2007, unpublished)]
113->
United States, Oklahoma, Red Oak; IV/1982; Stephan, K.
[TAMU (14) (SL Wood-1985, unpublished) (TH Atkinson-2007, unpublished)]
114->
United States, Oregon, Tollgate; 1/VII/1950; McClusky, E.S.
[unknown (1) (Wood, S.L. 1982: 384)]
115->
United States, Pennsylvania, Hummelstown; 1/IV/1923; Knull, J.N.
[MCZ (1) (TH Atkinson-1988, unpublished)]
116->
United States, Pennsylvania, Milton
[lost? (1: syntype(s)) (Wood, S.L. 1982: 294)]
117->
United States, Pennsylvania, York Co.
[Unknown () (Wood, S.L. 1982: 294)]
118->
United States, Rhode Island, Exeter; 22/IV/2009; Duguay, L.; trap alpha pinene + ethanol
[unknown (2) (EDRR 2011: 0)]
119->
United States, South Carolina, Barnwell Co.; 25/IX/1980; Medingfield, M.; Cupressaceae: Juniperus
[CUAC (1) (TH Atkinson-1988, unpublished)]
120->
United States, South Carolina, Central; 22/VII/1931; Altgood, B.; Cupressaceae: Juniperus
[CUAC (5) (TH Atkinson-1988, unpublished)]
121->
United States, South Carolina, Greenville
[unknown (1) (Wood, S.L. 1982: 295)]
122->
United States, South Carolina, Greenwood; VII/1926; Rogers, A.; Cupressaceae: Juniperus
[CUAC (5) (TH Atkinson-1988, unpublished)]
123->
United States, South Carolina, Modoc, 5.7 mi NE; 13/VII/1976; Turnbow, R.H.
[UGCA (1) (TH Atkinson-1988, unpublished)]
124->
United States, South Carolina, Sumter Natl. For.; Cupressaceae: Juniperus virginiana
[USFS-SE (7) (TH Atkinson-1988, unpublished)]
125->
United States, South Carolina, Yorkville
[Unknown () (Wood, S.L. 1982: 294)]
126->
United States, South Dakota, Ft. Pierre
[Unknown () (Wood, S.L. 1982: 294)]
127->
United States, South Dakota, Wessington Springs
[Unknown () (Wood, S.L. 1982: 294)]
128->
United States, Tennessee, Tennessee (state)
[Unknown () (Wood, S.L. 1982: 294)]
129->
United States, Texas, Austin
[Unknown () (Wood, S.L. 1982: 294)]
130->
United States, Texas, Bastrop
[Unknown () (Wood, S.L. 1982: 294)]
131->
United States, Texas, Big Wells; 29/VI/1936
[TAMU (1) (TH Atkinson-1987, unpublished)]
132->
United States, Texas, Brazos Co.; 8/V/1952; Reinhard, H.J.; Cupressaceae: Juniperus virginiana
[TAMU (1) (TH Atkinson-2008, unpublished)]
133->
United States, Texas, Camp Maxey; 30/IX/2010; Atkinson, T.H.; Cupressaceae: Juniperus virginiana
[UTIC (10) (TH Atkinson-2010, unpublished)] [TAMU (8) (TH Atkinson-2010, unpublished)]
134->
United States, Texas, Co. RD 403, 3.9 mi NE FM 3090; 20/VI/2015; Atkinson, T.H.; Cupressaceae: Juniperus virginiana
[UTIC () (TH Atkinson-2015, unpublished)]
135->
United States, Texas, Coleman; 16/III/1948
[TAMU (2) (TH Atkinson-1987, unpublished)]
136->
United States, Texas, College Station; 15/II/1962; Latham, E.E.
[TAMU (1) (TH Atkinson-1987, unpublished)]
137->
United States, Texas, College Station; 14/IV/1962; Burke, H.R.
[TAMU (1) (TH Atkinson-2008, unpublished)]
138->
United States, Texas, College Station; 2/V/2009; Riley, E.G.
[EGRC (1) (TH Atkinson-2011, unpublished)]
139->
United States, Texas, College Station; 17/IV/2009; Riley, E.G.; trap: beating Juniperus virgijniana fol
[EGRC (2) (TH Atkinson-2011, unpublished)]
140->
United States, Texas, Dallas
[Unknown () (Wood, S.L. 1982: 294)]
141->
United States, Texas, Dime Box, 9.5 km NW; 11/IX/2012; Atkinson, T.H.; trap: alpha-scents 4 vane ethanol
[UTIC (19) (TH Atkinson-2013, unpublished)]
142->
United States, Texas, Dime Box, 9.5 km NW; 18/VII/2012; Atkinson, T.H.; Cupressaceae: Juniperus virginiana
[UTIC (8) (TH Atkinson-2013, unpublished)]
143->
United States, Texas, FM 2979, 1.3 mi E TX 6; 20/VI/2015; Atkinson, T.H.; Cupressaceae: Juniperus virginiana
[UTIC () (TH Atkinson-2015, unpublished)]
144->
United States, Texas, Garden City; 21/VII/1952
[TAMU (2) (TH Atkinson-1987, unpublished)]
145->
United States, Texas, Houston
[Unknown () (Wood, S.L. 1982: 294)]
146->
United States, Texas, Houston; 17/II/1986; Burgos S., A.
[CEAM (1) (TH Atkinson-2015, unpublished)]
147->
United States, Texas, Kerrville; 15/IV/1965; Burke, H.R.; Cupressaceae: Juniperus ashei
[TAMU (1) (TH Atkinson-1987, unpublished)]
148->
United States, Texas, La Grange
[Unknown () (Wood, S.L. 1982: 294)]
149->
United States, Texas, LaRue; 5/IV/2013; Atkinson, T.H.; Cupressaceae: Juniperus virginiana
[UTIC (6) (TH Atkinson-2014, unpublished)] [ASUT (10) (TH Atkinson-2015, unpublished)] [UAIC (9) (TH Atkinson-2015, unpublished)]
150->
United States, Texas, LaRue; 20/VI/2015; Atkinson, T.H.; Cupressaceae: Juniperus virginiana
[UTIC () (TH Atkinson-2015, unpublished)]
151->
United States, Texas, McKinney; 3/VI/1997; Merchant, M.; Cupressaceae: Juniperus sp.
[TAMU (7) (TH Atkinson-2007, unpublished)]
152->
United States, Texas, Nacogdoches; 26/IV/1996; Saunders, D.; Cupressaceae: Juniperus sp.
[TAMU (12) (TH Atkinson-2007, unpublished)]
153->
United States, Texas, Palmetto St. Pk.; 3/IV/1968; Board, V.V.
[TAMU (1) (TH Atkinson-2008, unpublished)]
154->
United States, Texas, Robstown; 15/XI/1945; Alsmeyer, L.; Cupressaceae: Juniperus sp.
[TAMU (1) (TH Atkinson-, unpublished)]
155->
United States, Texas, Texas (state)
[USNM (1: lectotype, male) (Wood, S.L. 1982: 294)]
156->
United States, Texas, Tyler; 5/VIII/1936
[TAMU (8) (TH Atkinson-2008, unpublished)]
157->
United States, Virginia, Falls Church
[Unknown () (Wood, S.L. 1982: 294)]
158->
United States, Virginia, Fishersville; 22/IV/2013; McGehee, J.; trap: Lindgren Funnel exotic ips lure
[unknown (1) (EDRR 2014: 0)]
159->
United States, Virginia, Fredericksburg
[MCZ (1) (TH Atkinson-1988, unpublished)]
160->
United States, Virginia, Fredericksburg
[Unknown () (Wood, S.L. 1982: 294)]
161->
United States, Virginia, Ft. Monroe
[Unknown () (Wood, S.L. 1982: 294)]
162->
United States, Virginia, King William Co.; 20/V/1941; Hetrick, L.A.; Cupressaceae: Juniperus virginiana
[VPIC (10) (TH Atkinson-1988, unpublished)]
163->
United States, Virginia, Mt. Vernon
[Unknown () (Wood, S.L. 1982: 294)]
164->
United States, Virginia, Onville
[Unknown () (Wood, S.L. 1982: 294)]
165->
United States, Virginia, Pennington Gap
[Unknown () (Wood, S.L. 1982: 294)]
166->
United States, Virginia, Richmond
[Unknown () (Wood, S.L. 1982: 294)]
167->
United States, Virginia, Tumbez; 17/IV/2013; Templeton, B.; trap: Lindgren Funnel ethanol
[unknown (1) (EDRR 2014: 0)]
168->
United States, Virginia, Virginia Beach
[Unknown () (Wood, S.L. 1982: 294)]
169->
United States, Washington, Metaline Falls; 15/VII/1932; Terrel, T.T.
[unknown (1) (Wood, S.L. 1982: 384)]
170->
United States, West Virginia, Bayard
[Unknown () (Wood, S.L. 1982: 294)]
171->
United States, West Virginia, Kanawha Sta.
[Unknown () (Wood, S.L. 1982: 294)]
172->
United States, West Virginia, Wood Co.
[Unknown () (Wood, S.L. 1982: 294)]
Return to top of page